ABOUT US
Let us introduce ourselves !
MEDICAL CENTERS – BERGMANN KORD HAIR CLINIC
With more than 70.000 successful hair transplants, Bergmann Kord is a world-renowned, certified medical organization.


This fact has made it synonymous with Hair Transplantation.

Bergmann Kord's basic principle, is handling each case as 'unique'.
Thank you for your interest in our services.
Welcome to our website!
In depth Knowledge, Expertise, Values, Vision, Partners, Dynamic presence.
The elements that, harmoniously, compose the status and operation of the Bergmann Kord Hair Clinics.
A member of Kord Group, it is one of the leading Hair Clinics globally, with its headquarters located in Greece.
This fact has made it synonymous with Hair Transplantation.
Under German organizational and operating standards, the clinic has applied, for 37 years, all the Modern, Internationally Recognized methods of Hair Loss prevention and restoration, with exceptional success.
The clinic's multiannual experience, in conjunction with the application of the most advanced techniques – using innovative and cutting-edge technology – rightly place it as a "leader", in the domestic market, and beyond.
With more than 67.000 successful Hair Transplants, Bergmann Kord is a world-renowned, certified medical organization.
Bergmann Kord, fulfills its vision and mission by, daily, enhancing the quality of life, of the people that seek safe and permanent medical solutions.
The loss of hair, one of the most important factors for external appearance, is the motivation for the scientific centers to provide the most effective options against alopecia, such as Hair Implantation.
Enablers are : respect, honesty and professionalism.
The clinic's goal is to fulfill every individual's expectation for aesthetic improvement, putting into practice cutting-edge technology and innovative methods of treatment and hair restoration.
Bergmann Kord's greater reward is the final sense of confidence and satisfaction, of all those who entrust it.
More than 100 scientists, among them, dermatologists, plastic surgeons and nurses, with excellent training and complete specialization, staff the Bergmann Kord Medical Centers, throughout Greece.
Continuously updated on global developments in the field of hair, the clinic's medical teams, are always in the center of all new methods, ensuring high quality services.
The FUE Hair Transplant (Follicle Unit Extraction), is the most recent medical achievement, in the Hair Loss restoration field.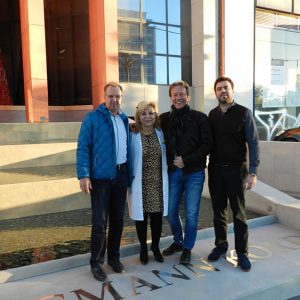 Welcoming of German clients, under the activity
"Medical Tourism by Bergmann Kord"
Additionally, it is considered the most effective "weapon" for Bergmann Kord's experienced doctors, presenting spectacular results.
Each medical medical team, specialized in Hair Implantation, includes head doctor, two assistant doctors, an anesthesiologist and a team of, highly trained, nurses.
The sufficient number of participants in the medical team, both concerning quantity and quality, will ensure the best possible synergy of the triangular relationship of doctor – client – assistant.
Bergmann Kord's basic principle, is handling each case as 'unique'.
The clinic always focuses on people that seek a thorough, medical, solution to their demands, concerning the sensitive issue of Hair Loss.
A free of charge, comprehensive, scientific diagnosis, for each person interested, is conducted, obtaining all necessary information leadeding to the most effective restoration method.
As every person has different and exclusive needs, a qualified doctor for each case undertakes the design and preparation of the most appropriate practice.
Either through a reinforcing treatment or a complete restoration using the FUE Hair Transplant (Follicle Unit Extraction), a perfect result and the greatest possible satisfaction of each person's expectations, is the clinic's main objective.
Throughout its operation, Bergmann Kord, steadily invests in clinical research.
The aim is to keep innovating and be at the forefront, through new techniques that will, with dignity and responsibility, contribute significantly, to the great matter of Hair Loss.
Services provided by Bergmann Kord, are characterized by personalized, objective, reliable information and substantial interest, from all the scientific and administrative staff of the Centers.
The people that entrust the care of their hair to the experience hands of the clinic's specialists, receive personal supervision of the results. Scientific staff is placed at their exclusive disposal, from the necessary, even daily, care, to telephone contact, for proper guidance and control, of the treatment's progress.
www.fuehairclinic.gr
"BERGMANN KORD S.A."
PRIVATE DERMATOLOGICAL SURGICAL MEDICAL CENTERS SA
D.T. : "BERGMANN KORD"
VAT : EL099042169
DOY : ΦΑΕ ΑΘΗΝΩΝ
NUM. G.E.MI. : 124177901000
ADDRESS : 348 KIFISSIAS AVENUE, 152 33 CHALANDRI, ΑTHENS.
Bergmann Kord's Medical Centers, in some of the most important cities all over Greece, offer the possibility to any individual for a personal visit.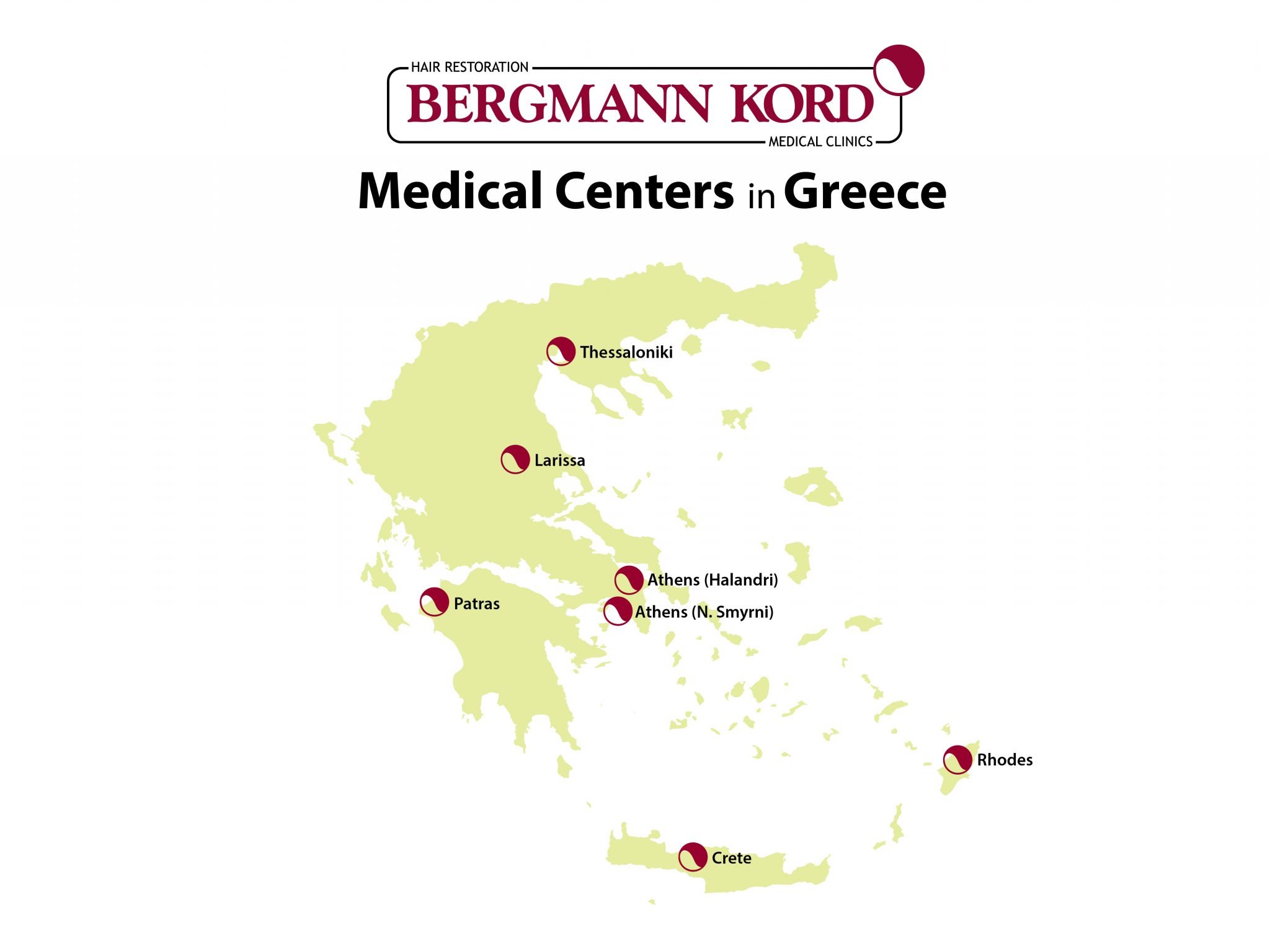 In Athens, Thessaloniki, Heraklion, Patras, Larissa, Rhodes, the highly trained team of the Medical Centers, is always available to provide a full and reliable consultation to everyone.

For
DIRECT CONTACT
please call us at
(+30) 210 - 68 28 888
0030 210 6828 888
Gratis for Greece
(no charge from a landline)
Fill in this
Remote Diagnosis Form.
Collect information about your hair loss case. Confirm that you are a suitable Hair Transplant candidate.
Simply and in the comfort of your own space.
In any case, we will be glad to see you.
Start now